Problem encountered
Temperature conditions inside an industrial hall require better management both in terms of operator comfort and in terms of the impact on production processes.


Objective

To lower workshop temperatures during hot weather,
Without increasing electricity use, even by decreasing it .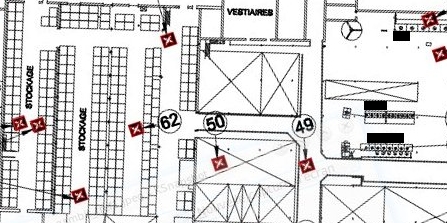 Plan of one industrial hall
Method
3D simulations of the hall using the existing sources of heating and ventilation,
Qualification of the model as compared to the made mesures,
Simulation of various representative conditions among which the high temperatures occurring in summer,
Proposing natural ventilation solutions based on simple opening systems.
Solution
The solutions suggested enable to :

reduce maximum temperatures (50°C) by 5 to 10 degrees,
with no extra energy consumption.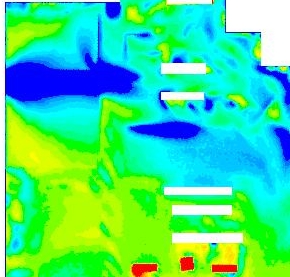 Temperature field at 2m from the floor. After comparison with measures, simulation is used to optimize ventilation which can even be partially natural.


We carry out aeraulic studies for some other applications :
Ventilation and comfort for buildings,
Natural ventilation for buildings,
Aeraulics of processes.