Study of a LPCVD Production Reactor
Problem encountered
Solid deposits outside substrates is leading to maintenance costs and a productivity decline (contamination by solid particles).
Objective
To increase productivity,

To reduce maintenance costs.
To set goals with our customer, supplier of pumping solutions.

To identify the type of studies and their precision according to the objectives,
Studies carried out using the most suited physical and geometrical models.

Studies carried out

3D simulation of the whole equipment in different phases : pumping, deposit, filling,

Deposition as contamination source, then study of the pump-down and pressure rise dynamics in the furnace (see

contamination

)



The reactivity is represented, thanks to a bibliographic review, by a simplified kinetic model adapted to the conditions of the simulated furnace.


The whole approach is validated in comparison with client's observations.

The results allow a validation of the concepts proposed by our client, then an optimization.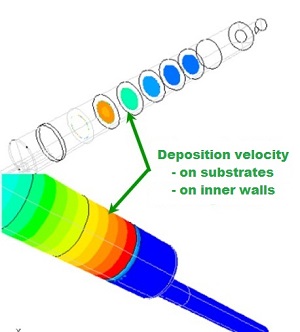 Deposition velocity on substrates and inner walls ( intermediate modelling non-predictive). Red area: potential for fast contamination by deposits.